Jonathan Sands paves way for new ownership
This November marks two key milestones for Born Ugly – firstly a personal one for Jonathan Sands, Chairman of Born Ugly, in that it will be forty years this November since he joined what was then 'Elmwood Studios' and secondly for Born Ugly itself as November will mark a move to a new home in the center of Leeds. The first real home as Born Ugly, not as Elmwood. So, a true opportunity to close an old chapter and begin a totally new one in their own Born Ugly space.

It is with both these landmarks in mind that Jonathan has decided that it is also time for him to step down as Chairman and leave the business to allow the next generation to step up and take on the baton.
Having demerged from the Elmwood Group in 2021 to become a stand-alone business and in so doing, rebranding as Born Ugly, Jonathan Sands and Sarah Dear as the founding shareholders then went about creating a new ownership structure for the future to allow all colleagues to become shareholders. As Sands steps aside he will retain his historic share value but will no longer have any executive role or indeed any interest in future share growth having relinquished all his future value through the issue of new growth shares. Almost everyone in the business can now count themselves as an owner and indeed the team has already enjoyed its first dividend returns.

The Born Ugly business will continue to be led by its current senior executive team; Sarah Dear, continuing her 30-year plus tenure with the business as Managing Director, Wander Bruijel, heading up Strategy and Provocation, Sabrina Ahmed, heading up Client Relationships, Rob Skelly heading up Creative and Tim Bowman, as CFO. This team is very excited about the prospect of being the next guardians, building on the very solid financial performances over the past few years, and taking the business on to great things.
Born Ugly finds a new home
As well as retaining his historic value and as such remaining an investor in the Born Ugly business Jonathan will also stay close by acting as the company's new landlord in their new home at Whitehall Quay.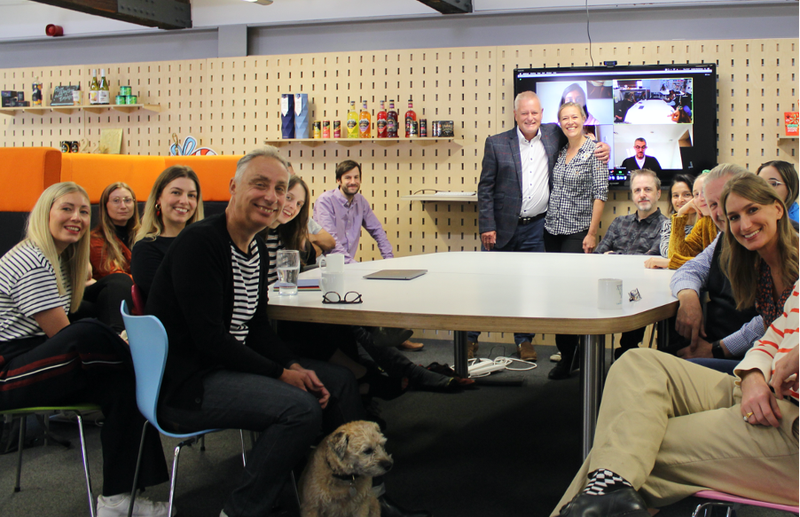 Jonathan, Sarah and some of the Born Ugly Team at the internal announcement of Jonathan's news.

Sarah Dear commented; "The team wants to thank Jonathan for his vision in founding Born Ugly and for his support, counsel, mentorship, and friendship. Born Ugly, although a relatively new brand, has 40 years of heritage and experience sitting behind it. This legacy, coupled with a bold, start-up mentality and innovative mindset has created a new type of business. Our ambition is to help visionary companies and entrepreneurs create exciting new brands or transform existing ones so they can make a meaningful impact on the world. The best ideas are born ugly."
Jonathan commented on the announcement by saying;
"After 40 years in this business I had never quite imagined where my jumping-off point might be but with Born Ugly in very capable hands, this anniversary coupled with a move to a new home knowing that our trajectory was good and with a strong team and sound financial foundations, it just seemed like the perfect moment. It is a sad day in many ways as I have loved just about every moment and to the people, I leave behind, both colleagues, supply partners, and clients alike I would just like to say thank you for all the support you have given me over the years and very best wishes to you all for the future. But just to be clear this isn't a retirement notice! I shall continue with my personal consulting and Non-Executive roles and as mentioned I will stay close to Born Ugly as a landlord through my new property business 'The Third Pig Company'".
Let's create something
extraordinary
Find out how we can help you break through and do the unexpected.