VFC
Starting a positive food revolution
Brand Identity
, Brand Strategy
, Naming
, Brand Guardianship
, Verbal Identity
, Brand Experience
, Art Direction
, Packaging Design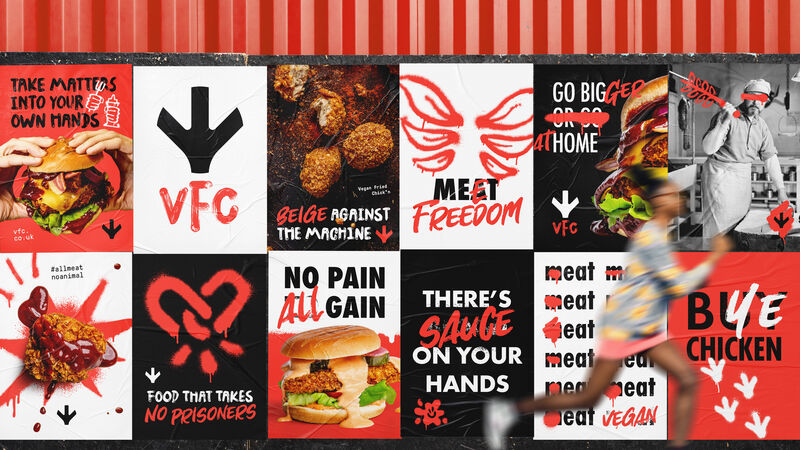 Product sold in first month of trading
Instagram followers within two months
The founder of Veganuary and a talented chef approached us with a clear ambition: to change the way the world eats. We created a positive food rebellion by positioning VFC as a no-compromise foodie brand with all the greatness of junk, and none of the guilt. Unburdened by the self-righteous norms of the category, we had the freedom to celebrate messy, dirty junk food with a feel-good attitude. With ambitions to create and launch a global brand within five months, it was a wild ride – and one we enjoyed every second of.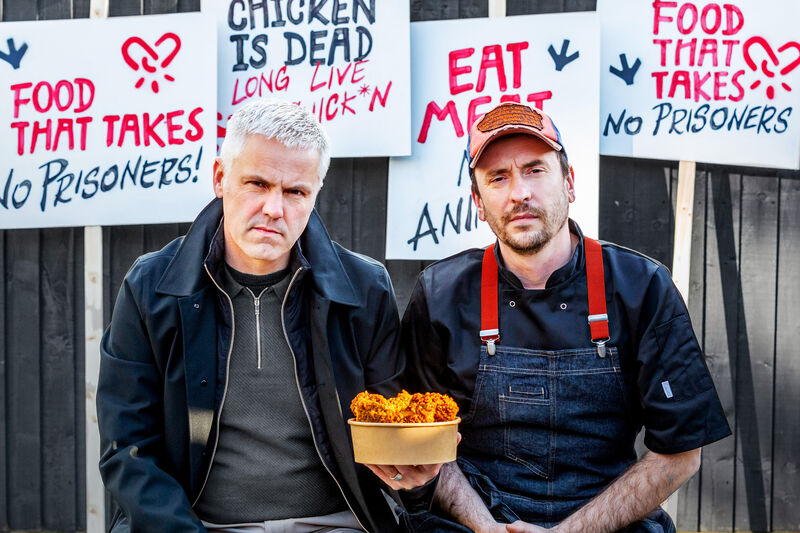 McCartney and Lennon. Simon and Garfunkel. Sometimes you witness a meeting of minds and you know you're about to embark on something great. Enter Matthew and Adam.
Matthew is a founder of Veganuary who's committed years of his life to invest in the power of plants. And meet Adam, owner of an incredibly popular restaurant serving cutting-edge vegan food. Together they decided to embark on a journey to start a global food business and reduce the number of chickens being eaten each year. The rest is history. A very delicious history.
The Challenge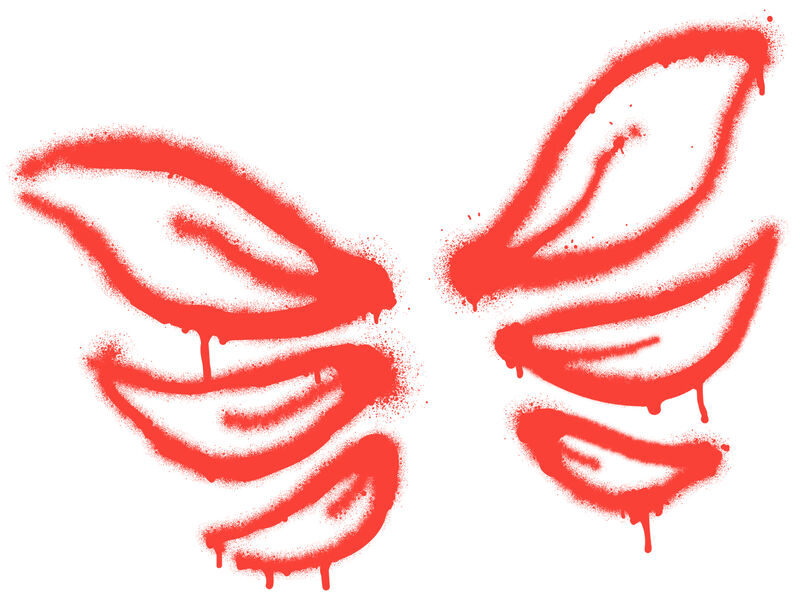 Taking ethical mainstream
Our challenge was to create a brand that appeals to a growing flexitarian market, by positioning VFC as a plant-based alternative to typical junk food. We needed to deliver all of the 'feel good' of indulgent eating while adding to that satisfaction by removing the guilt of eating animals.

Rather than talking only to vegans, we wanted to create a brand that appeals to the mainstream. With plant-based meat alternatives on the rise and constant new vegan offerings from fast-food chains, creating a new brand in this space was a challenge for only the brave.
The mission
Time to shake things up

Positive food rebellion

The solution was to celebrate all of the positive elements of enjoying your favourite junk food, including the feel-good moment of indulgence. At the same time, the brand sticks it to the man with a clear brand ambition to 'shake it up', by rejecting the status quo of the food industry and challenging the system.
We created a positive food rebellion by positioning VFC as a no-compromise foodie brand with all the greatness of junk, and none of the guilt.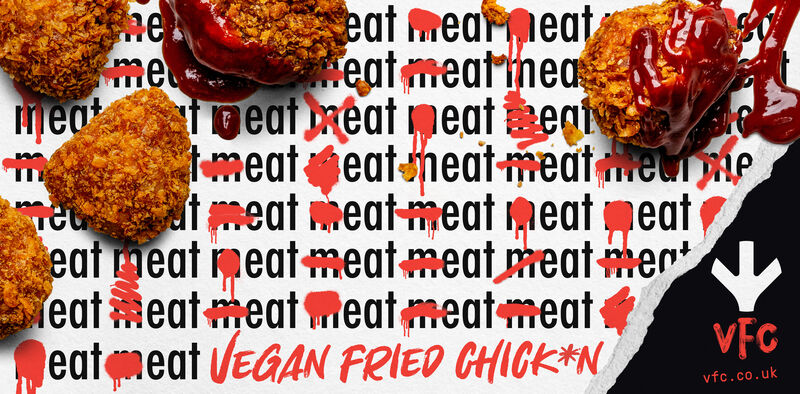 Subverting the status quo
Embracing the spirit of rebellion and raw passion, we created a brand that expresses indulgence and the freedom of living without guilt. Unburdened by the self-righteous norms of the category, VFC can celebrate messy, dirty junk food in a positive way.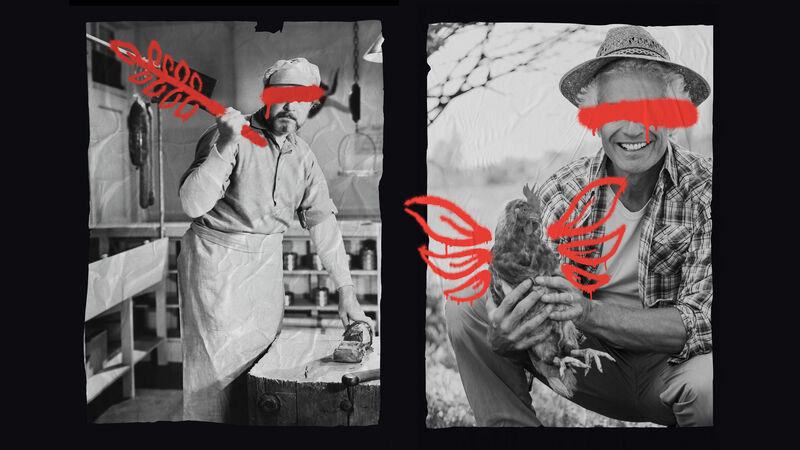 We created a brand system and tone that serves up fast food cues with pointy messages that challenge the norm. Spontaneous graphics, expressive bespoke typefaces, mouth-watering photography and sassy brand messages work together to deliver big on both attitude and flavour.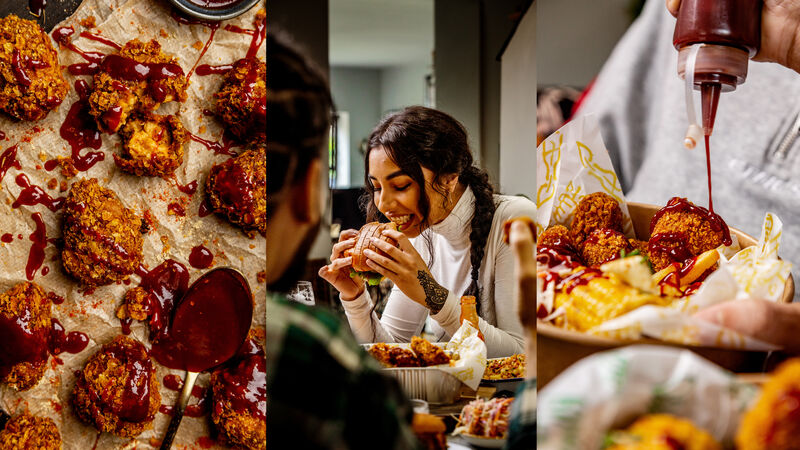 Photography by Lucas Smith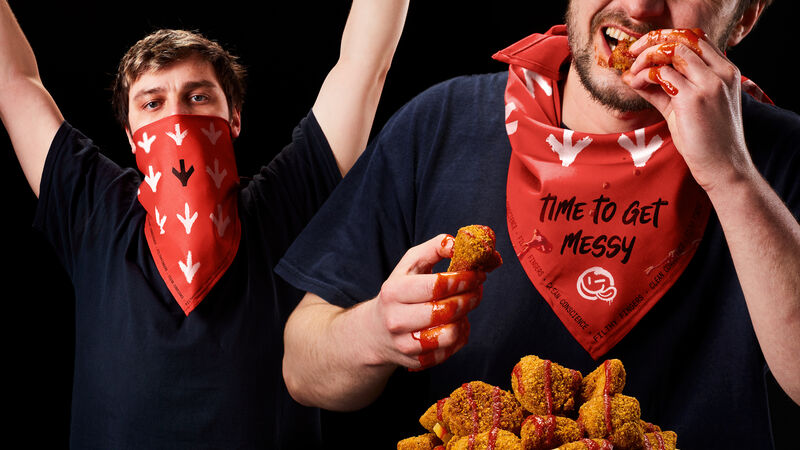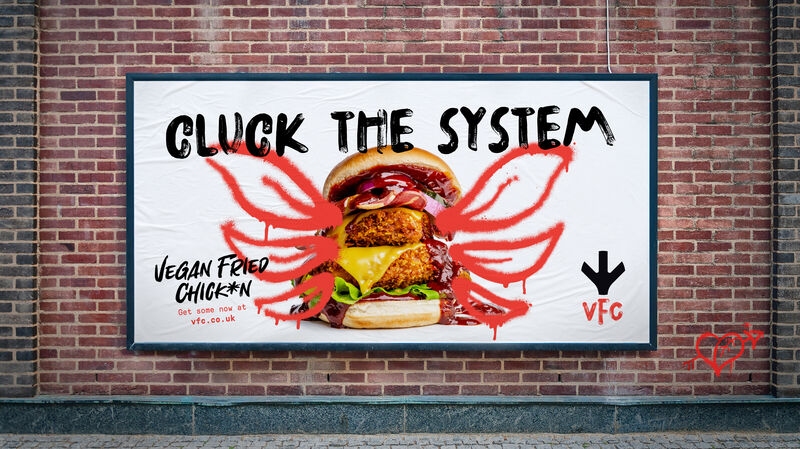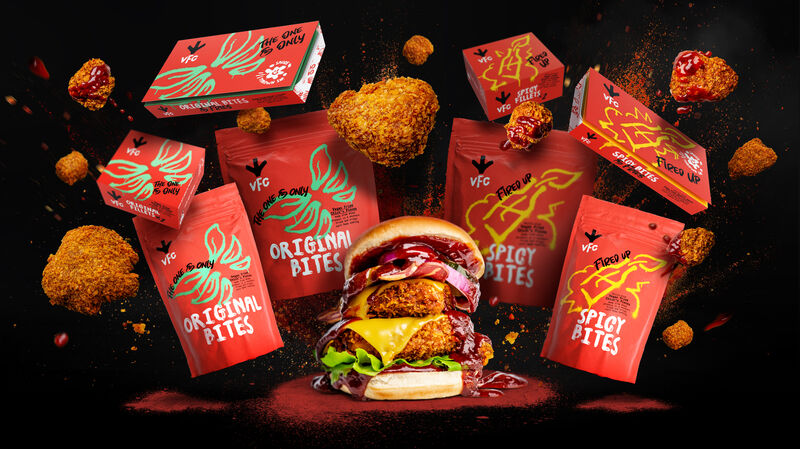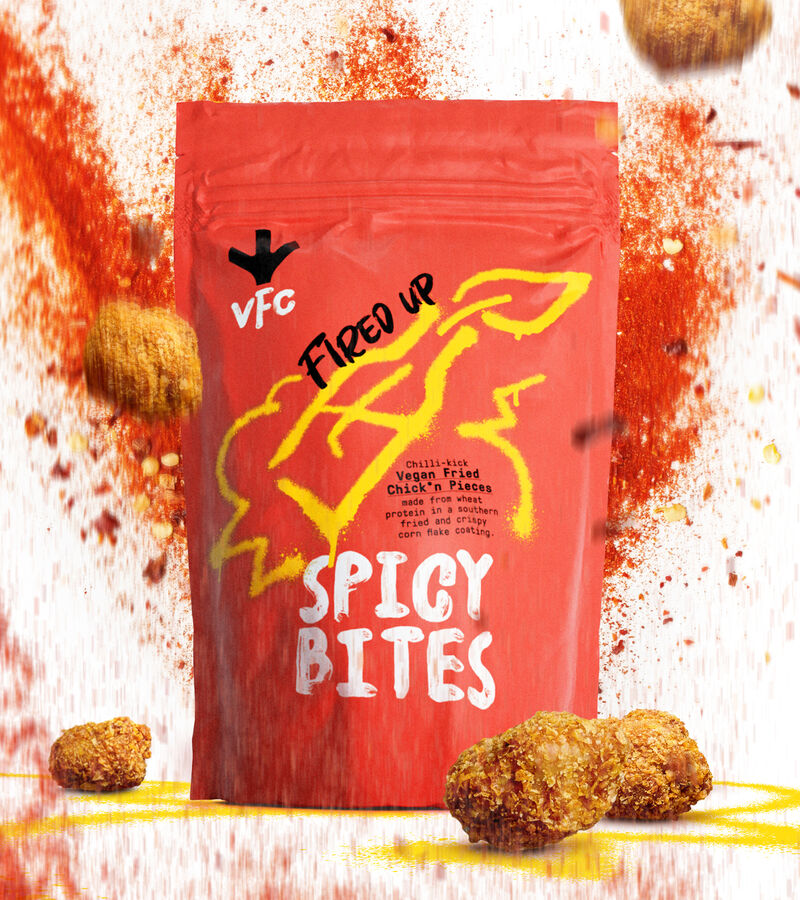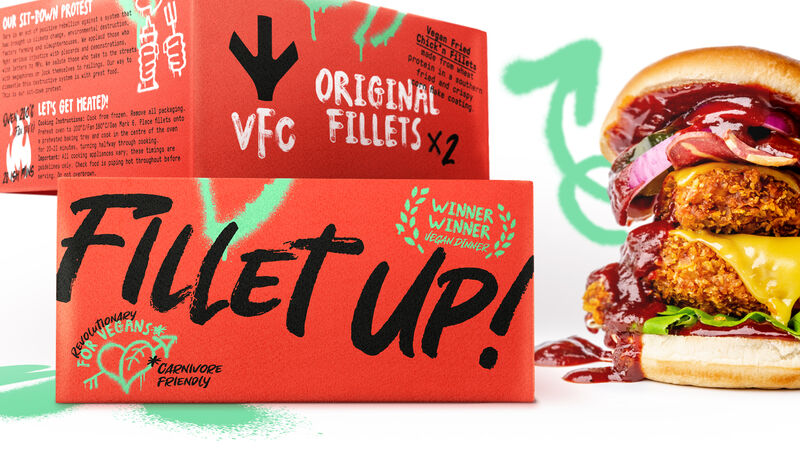 A flying start
This client should have counted their chick*ns before they hatched the brand – they were running out of supply due to overwhelming demand within weeks of their launch.

Their direct to consumer offering has proven the concept works, and international retail opportunities are presenting themselves daily. Without a single penny spent on advertising to date, the brand has delivered great impact in a fast-paced and ever-growing market and captured the attention of herbivores and carnivores alike, across the globe.
"Born Ugly were instrumental in the development of the VFC brand strategy and identity. Having come to them just 4 months before launch, their brave thinking has helped us make an impact in the market and achieve our ethical and commercial objectives whilst inspiring a new revolution of rebellious, indulgent, plant-based eating! Born Ugly pushed us out of our comfort zone in the best way, creating something that cuts through the noise of the vegan market, and delivers our powerful message while appealing to a mainstream audience. Their process and vision highlighted opportunities far beyond our original brief and they continue to inspire us."
Matthew Glover
Managing Director of Veg Capital and Co-Founder of Veganuary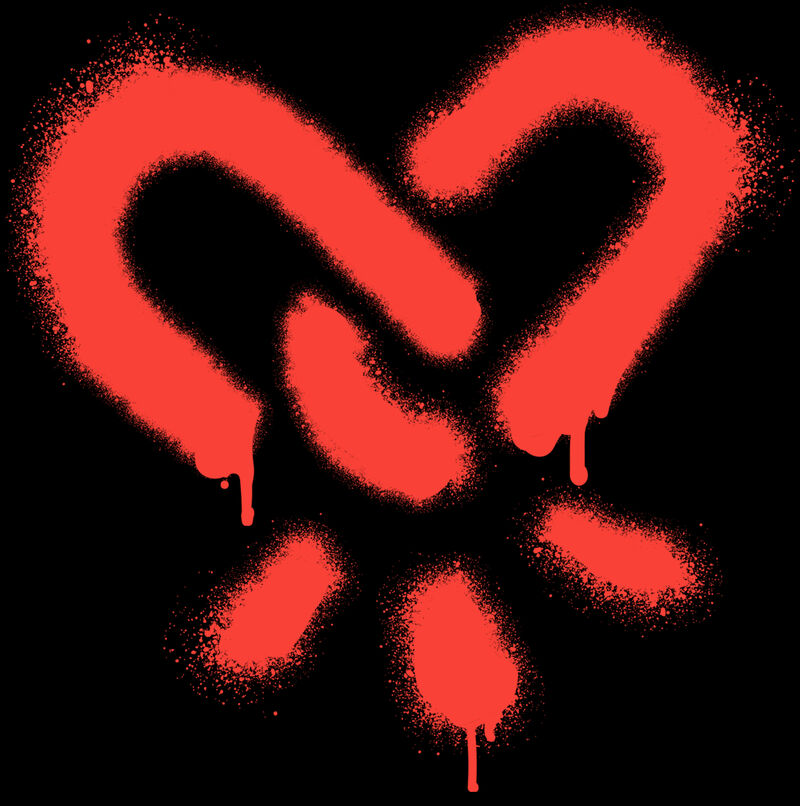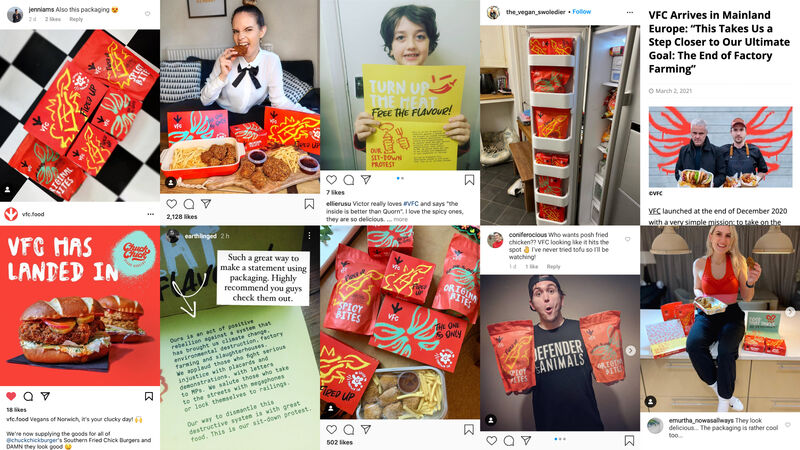 Let's create something
extraordinary
Find out how we can help you break through and do the unexpected.